Social Security Changes Procedure on Video Teleconference Hearings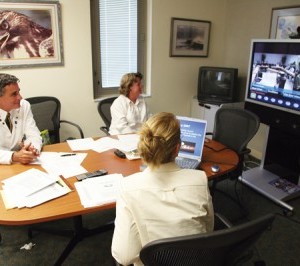 The Social Security Administration has changed its policy on Video Teleconference Hearings (VTC).  In VTC hearings the claimant and attorney are either in a local Social Security Field Office or local Office of Disability Adjudication (ODAR) and the judge is either in another ODAR or a National Hearing Center (NHC).  The parties to the hearing are able to see and hear each other on a monitor.
In some cases this is a satisfactory procedure.  In others it is not.  For example, I generally decline VTC hearings for persons with psychological impairments because I think it is important for the judge to be in the same room as the claimant to truly get a flavor for how the impairments are manifested.
Another consideration is the judge.  I have a good feel for the local judges I see on a regular basis.  I know how they conduct their hearings and their likes and dislikes.  On many occasions I will ask to see the judge before the hearing begins to discuss aspects of the claim.  This is generally not available in a VTC hearing.
Previously, when a hearing was ready to be scheduled my office would be contacted by the ODAR and advised that a VTC hearing was anticipated.  We could then decide whether to go forward with the video hearing or opt out.  Now that decision must be made early on just after the file arrives at the ODAR.  A form is sent to the claimant and attorney giving the opportunity to opt out of a VTC hearing.  There is a 30 day window to opt out.  If that form is not returned in time the Claimant has no option but to have a video hearing.
Because of the issues outlined above I am advising all of my clients to opt out of VTC hearings.  While it may take a little longer to have a video hearing it is better to do so and win that have quicker hearing with a bad result.